Indoor car storage in a secure, climate controlled environment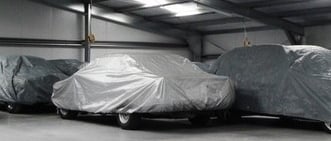 Dehumidified Car Storage
Cumbria Car Storage is committed to providing the best quality package available for your car storage needs. We are happy to tailor our services to meet any additional or special requirements.
Comprehensive Storage Package
We offer the highest level of storage and care as standard, with no hidden extras.
On receiving vehicles for storage, they are inspected and their condition and mileage noted.
Fluid levels are checked and if appropriate tyre pressures are increased to prevent flat spots.
Cars are then given an exterior wash and dry together with an interior vacuum and clean.
Cars are stored in a purpose built, humidity, temperature and dust controlled building.
While in storage cars are connected to a battery conditioning unit and protected by a soft indoor dust cover.
All cars are visually checked weekly for loss of tyre pressure or fluid leaks.
Prior to removal, tyre pressures are reset and a final check of fluids is made.
Cars are fully comprehensively insured whilst in storage and while being transported by us. Our trade policy is with Footman James.